Waterproof Basement Subfloor Installation Contractor Near Saanich, Victoria, Nanaimo
ThermalDry® Insulated Floor Decking™: Superior finished floor decking

Watch this video to see how your basement can benefit from this revolutionary insulated subflooring system.
It's happened in thousands of basements: Homeowners pay good money to have attractive flooring installed, only to see this investment ruined by mould and moisture damage. The fact is that building materials (like framing lumber and plywood subflooring) that work well on the upper levels of your house can fail miserably in the basement. Plumbing leaks, spills, high humidity and dampness from your concrete slab can all result in moisture damage and a mould infestation.
Wouldn't it be great to install basement flooring that's immune to mould and moisture damage? It would also be great if your floor could be comfortably warm instead of cold. ThermalDry® Insulated Floor Decking™ is designed to provide both of these important benefits.
Install a thermal barrier between the concrete and your feet
Get A FREE Quote!
Island Basement Systems installs ThermalDry® insulated subflooring, as well as a variety of finished flooring options for the basement. Contact us for a free basement flooring estimate, offered to customers in Victoria, Nanaimo, Qualicum Beach and surrounding British Columbia areas.
Why choose ThermalDry® Insulated Floor Decking™?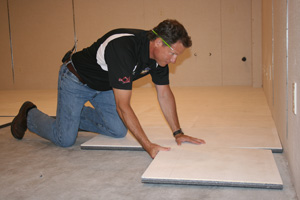 The ultimate subfloor for any finished basement in Vancouver Island
Especially in a basement, the secret to a beautiful, long-lasting floor is the quality and durability of the subfloor that is installed. ThermalDry® Floor Decking achieves what other subfloor treatments can't, providing a continuous layer of waterproof foam insulation that keeps your floor surface comfortable. Bonded to the rigid foam is a flat composite board that won't attract mould and can't be damaged by moisture. The composite board makes an excellent substrate for the finished basement flooring of your choice.
Call us or contact us online to set up a free consultation with one of our basement experts. Island Basement Systems' service area includes Duncan, Campbell River, Langford, Courtenay, Port Alberni, Squamish, Esquimalt, Victoria, Nanaimo, Saanich and surrounding areas. We provide free installation estimates for ThermalDry® Insulated Floor Decking™ and all of our waterproof flooring solutions.
Looking for a price? Get a no cost, no obligation free estimate.