Basement Waterproofing Costs Near Nanaimo, Saanich, Victoria
Keeping your basement dry is important, but how much should you pay for a basement waterproofing system?
Why choose Basement Systems?
The best products -exclusive access to patented, industry-leading waterproofing products.
Thousands of satisfied customers -a dry basement track record that extends to thousands of homes throughout the U.S., Canada & the United Kingdom.
Dry basement warranty -transferable, backed by exceptional customer service.
There's no arguing the importance of a dry basement. You need an effective basement waterproofing system if you're going to sell your house. And you don't want to live in a house with a basement that has moisture and musty odors because of mould. The cost of basement waterproofing is where disputes begin.
To get a better understanding of how basement waterproofing costs are determined, review the several factors explained below.
What factors determine basement waterproofing costs?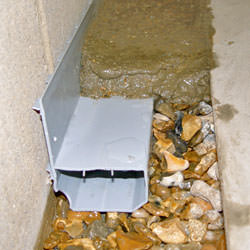 Insist on quality components. Patented WaterGuard® drain lines are priced by the linear foot.
Size. The French drain system installed to relieve water pressure and transport ground water to a sump pump is priced by the linear foot. To generate a waterproofing estimate for you, the contractor will measure the perimeter of the basement and multiply the linear foot measurement by a fixed price per foot of drain line.
Basement finish. Waterproofing workers must have access to the corner area where the concrete basement wall meets the slab floor. If finished walls are blocking this access, they will need to be partially or completely removed. The EverLast™ Finished Wall Restoration System from Basement Systems makes it possible to remove only the lower section of existing finished walls. This saves time and money, while also minimizing the mess.
Sump pump quality & features. Installing a bargain-priced sump pump will save you money, but the savings can easily be wiped out when the low-quality pump burns out or is overwhelmed. Most homeowners opt to invest in an advanced sump pump like the TripleSafe® model from Basement Systems. This system actually contains a trio of sump pumps designed to provide backup pumping during heavy volume situations, and to provide a battery-powered pump when the power goes out.
Dehumidifier installation. Even a "dry" basement can have excess humidity, mainly due to the moisture that the foundation absorbs from the soil and then releases into the basement. Because it's important to maintain low humidity to discourage a mould infestation, the cost of a dehumidifier may figure in your overall waterproofing cost.
Repair details. In a finished basement, finished materials that have been damaged by moisture may have to be removed or replaced. Performing this work can add to your waterproofing costs.
Having water in the basement is one of the most frustrating events for a homeowner to experience. That's why we're here to help! Find out how much it will cost to waterproof your basement with our Free Estimate, where one of our system specialists will fully inspect your basement and provide you with a detailed quote.
Looking for a price? Get a no cost, no obligation free estimate.