Crawl Space Cleanup Before Repair & Encapsulation
Providing Crawl Space Cleanup & Remediation Services for a Healthier Home Environment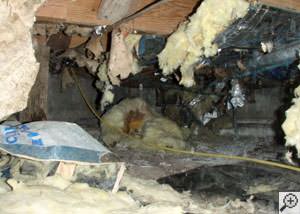 Your crawl space has a big impact on how healthy and energy efficient the rest of your home will be.
By cleaning up and sealing your crawl space, you provide a valuable upgrade for your home.
At Island Basement Systems, we specialize in crawl space services of all types, including crawl space restoration, remediation, and encapsulation. If you've noticed mouldy or musty odors in your home, sinking floors above your crawl space, or are concerned with flooding, our specialists are here to help you.
We specialize in solving crawl space issues of all types, including problems related to mouldy, rotting crawl spaces. Our crews of crawl space experts can clean up your crawlspace by removing the debris, fallen batt, old wood, etc, then seal and insulate your space quickly -- usually in less than a day. Our crawl space liners include a 25-year written warranty for durability.
For a free crawl space remediation estimate, contact us by phone or e-mail today! We serve Victoria, Nanaimo, Saanich and many areas nearby in Vancouver Island.
Please note that we are a foundation repair company that works hard to improve your crawlspace to be healthy, energy-efficient, dry, and warm. We do not provide basic "cleaning" services such as vacuuming and dusting.
Our Crawl Space Cleanup Services
We offer cleaning for crawl spaces to keep the area clean and dry. We offer many types of cleaning and repairs for crawl spaces, including:
Removal of Debris & Rotting Materials
Insulation Removal
Sealing & Insulating the Crawl Space
Structural Repair & Reinforcement
Leveling of Crawl Space Floors
Crawl Space Moisture Control & Dehumidification
Crawl Space Door Replacement
Why Clean Out Your Crawl Space Before Sealing or Repairing?
While many homeowners do not access their crawl space regularly or use it for storage, what happens in this space can significantly impact the rest of the home.
If you have an exterior vented crawl space, you can count on 40% of the air in your home coming from your crawl space. Anything in that air -- including mould spores, odours, and humidity -- is all brought up into your home.
Improving and cleaning your crawl space will eliminate a significant source of allergens in your home and create a healthier environment.
Do You Have a Mess in Your Crawl Space?
At Island Basement Systems, we've seen the absolute worst that crawl spaces can offer -- and we've cleaned it all! Here are just a few photos our experts have taken from the field:
(Click each photo to enlarge.)
Crawl Space Sealing & Insulation Creates Cleaner Crawl Spaces
Our crawl space liner, energy-efficient dehumidifier, and other products will create a healthier, more energy-efficient space in your home. Mould, rot, and mildew will be controlled, and rodent and insect infestations will be discouraged.
Sealing a crawl space also creates dry, usable space that looks great! Below are just a few pictures of crawl spaces our experts have sealed.
(Click each photo to enlarge.)
Ready to turn a damp, mouldy crawl space into a clean, usable space?
At Island Basement Systems, we can fix even the messiest crawl space! We offer homeowners free, no-obligation crawl space repair estimates throughout Vancouver Island. Our free quotes include a personal inspection, cost quote, and a copy of our 88-page full-color crawl space book. To schedule an appointment with us, call or e-mail us today!
We proudly serve the Victoria, Nanaimo, Saanich area, including Campbell River, Duncan, Courtenay, Langford, Squamish, Esquimalt, Port Alberni and many areas nearby.
Looking for a price? Get a no cost, no obligation free estimate.