Rats Infesting in Insulation Near Victoria, Nanaimo, Qualicum Beach
Rats Living in Your Batt Insulation?
Rats love to make their home in batt insulation. They will come in during the cold weather to a warm environment your crawlspace, basement or attic) that also has a very comfortable nesting material for them Plus lots of bugs, and moisture for them, so the rodents are practically invited to stay.
What rats don't like, are clean and dry environments. Take away the batt insulation and you take away their nesting material. Seal the access holes with a rodent barrier to prevent them from coming in, then use an air barrier type insulation, such as spray foam or rigid insulation, and you'll stop the bugs from coming in as well.
Our systems are designed to give you a warm and dry home. Now you can augment our systems with our rodent barriers to keep those nasty critters out for good.
Insulation removal:
We can remove that infested batt or loose-fill insulation with our powerful vacuum system. That limits the amount of debris being spread through your home by the traditional garbage bagging method. As well, we can apply a disinfectant to the area to neutralize the rodent matter.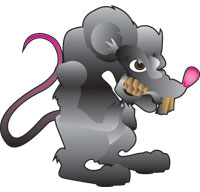 Warranty:
Our rodent barrier comes with a warranty that rodents won't get through our barrier, or we'll repair the hole for free. The life of the warranty matches the system being installed.
Inspections:
We offer post-installation inspections to help determine if rats are getting through other areas of your home by using thermal imaging cameras, probe inspection tools, and moisture detectors.
Looking for a price? Get a no cost, no obligation free estimate.