Foundation Insulation Contractor Near Victoria, Nanaimo, Saanich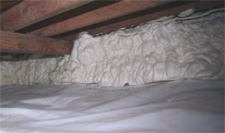 A ventilated, non-insulated crawl space will allow for 30-50% inefficiency in your home. That is 1/3 to 1/2 of your heating bill being WASTED on heating outside air!
Island Basement Systems works closely with building scientists and home efficiency experts to provide proven systems that will result in a WARM, DRY crawlspace or basement.
This will significantly increase your energy savings, reduce your environmental footprint, help you to meet Energuide Canada guidelines and SAVE you money on your heating bill!
Schedule your free no-obligation inspection and estimate to evaluate your crawlspace or basement today.
Spray-Foam insulation is applied in your crawl space, directly to the concrete or wood foundation walls. This provides the perfect seal against drafts, with the highest R-Value of any insulating material available. Energy costs are reduced and your home comfort is enhanced!
Looking for a price? Get a no cost, no obligation free estimate.