How to Transform a Crawl Space With Insulation and Sealing Near Victoria, Nanaimo, Saanich
Before: A dank, nasty crawl space
The crawl space is filled with garbage, and damp insulation is dripping from the ceiling. Some of the floor is covered in a clear, 6 mil poly liner, but it's torn and not covering the entire floor. The concrete walls are cold and bare.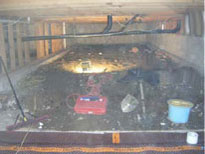 Before we can get good work done on the crawl space, we must get rid of the mess.
The thin, torn 6mil crawl space barrier is removed, as well as any debris on the crawl space floor.
We also remove that old, dripping, wet insulation from the ceiling.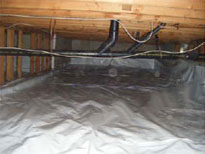 Next, we smooth out the floor and install CleanSpace® along the entire floor and along the walls.
CleanSpace® is a thick, durable 20-mil vapor barrier with a 25-year warranty for durability and resistance to tears and rips under normal use. The CleanSpace® liner is laid out and sealed with a special waterproof tape.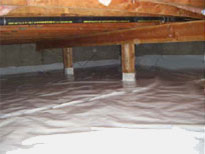 We bring the CleanSpace® liner partially up the walls and beams so we can create a secure seal with spray-foam insulation.
Once installed, your crawl space will become available for use as storage space underneath your home, freeing up your home and basement for other uses.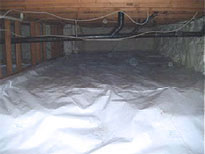 Next, spray foam insulation is applied to the concrete basement walls. This helps keep the space insulated from cold. Crawl spaces tend to hold utilities, hot water pipes, and heating ducts.
When these things are protected from cold, they won't have to work as hard, saving you money. Additionally, cold will not seep up through the floor, which makes an uncomfortable home upstairs.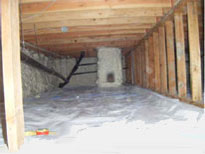 If the crawl space had any issues with groundwater leakage, or you'd like to protect the space from potential plumbing leaks, we can install a crawl space sump pump in your home. This will effectively drain water out of the space. In the case of a plumbing leak, a special alarm can sound off to let you know of the problem right away.
As you can see, the sump pump system is designed with a special lid that tucks neatly underneath the liner for a complete seal. The drain in the sump pump
After: An energy-efficient, moisture-protected crawl space!
With the sump pump system protecting the space, the liner and crawl space vent covers keeping away moisture, and the crawl space insulation keeping out the cold, you have a completely protected crawl space environment. The white liner and insulation makes for the best use of available lighting, while all joists and pipe penetrations are filled in with insulation. Your crawl space is drier, more attractive, and more useful than ever before!
Contact Island Basement Systems today for a FREE crawl space insulation and sealing quote.
Looking for a price? Get a no cost, no obligation free estimate.