Deep Energy Retrofits Contractor Near Nanaimo, Saanich, Victoria
Maximize your home's energy performance with our energy-efficient services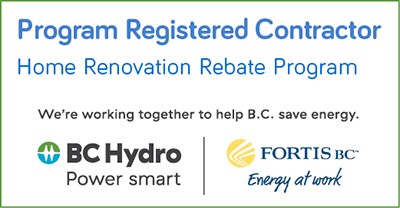 Ask us about energy efficiency rebates from BC Hydro and Fortis BC
Island Basement Systems has been fixing homes for years, and we have over 6000 jobs under our belt on the Island. Many of those repairs have been for energy efficiency upgrades. In the past, we've worked closely with EcoAction, LiveSmartBC, and the new Home Renovation Rebate Program (HRRP).
Recently, we've been involved with more projects where we are not only installing the retrofits, but also determining what needs to be done in the first place. With the lack of rebates available for the Certified Energy Advisor (CEA) program, we've filled that audit hole with our audit program.
We have several technicians who have undergone the blower door training requirements, as well as technicians who were a CEA until the LiveSmart program ended. Now we offer energy efficiency audits for the whole home to help you decide what needs to be tackled first. Crawlspace? Attic? Windows? Call us today at 1-855-206-4811 or click below to get started with a free estimate in Victoria, Nanaimo, Saanich and the nearby areas!
Our complete energy services
We're able to provide the deep energy efficiency retrofits that many homes need. Some of our services include:
Air sealing the whole home: On Vancouver Island, this is the most important step in any retrofit program.
Insulation: Basements, crawlspaces, main floor walls, cantilevers, etc.
Moisture proofing: An air-tight home that has moisture penetrating through the building envelope is a bad thing.
Mechanical ventilation: An energy efficient home needs to be draft-proof, which means mechanical ventilation of some type is a must.
The steps to a deep retrofit program are
Complete the home energy audit, consisting of a blower door depressurization test, thermal imaging evaluation, moisture levels, inspections of attic and crawlspace or basement, existing insulation evaluation, assess the windows, etc.
Create the retrofit list after identifying the deficiencies. Then determine where the "low hanging fruit are" to create an accomplishment list that is scaled to meet your needs and budget. For example, vented crawlspaces are more important to fix than windows. But maybe the window in the kids bedroom has to be fixed first for sound, drafts, etc.
Work on a timeline to determine the scope of work and when best to tackle the project. Doing attic retrofits in the heat of the summer is not the best time, as attics can become crazy hot on a sunny summer day.
Start the retrofit program and have the deficiencies repaired.
Conduct a final energy audit evaluation to establish the performance gains and determine if anything else needs to be tackled.
Upgrade your home's energy efficiency today
If you're interested in improving your home's energy efficiency, the experts at Island Basement Systems are here to help. We can provide you with a complete home energy evaluation and recommend the right solutions to give you the energy efficiency and utility savings you need. Call us today or contact us online for a free estimate in Victoria, Nanaimo, Saanich, Duncan, Campbell River, Langford, Courtenay, Port Alberni, Squamish, Esquimalt and throughout the surrounding areas.
Looking for a price? Get a no cost, no obligation free estimate.