Air-sealing strategies Near Victoria, Nanaimo, Saanich
With the visual inspection and blower door test complete, you should have a pretty good idea of how much impact leaks are having on your energy use and comfort. Now what? You're probably wondering: "With so many leaks to plug, where do I start?"
Don't worry. We've got you covered. Island Basement Systems air-sealing strategy provides a simple, common-sense approach to air-sealing your home. It's important to air-seal the attic first (A) because this is where the most significant leakage occurs. Basement (B) and crawl space areas are the second priority. Air-sealing these spaces eliminates a major source of cold air infiltration. With A and B zones taken care of, what remains is conditioned space (C), the main living area of your house.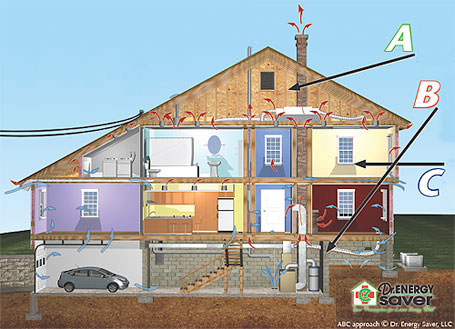 Important!
Fiberglass and loose-fill cellulose insulation will not stop energy-wasting air leaks.
Spray foam insulation is the onlytype of insulation that can also perform effectively as an air sealer. Dense-pack cellulose will also reduce air leakage, but is not building code approved as an air barrier. If you are planning home energy saving upgrades that include other types of insulation — like fiberglass or cellulose, for example — make sure that your home has air-sealing work completed first. "Build it tight - ventilate it right" is a building science expression that is great guideline.
Call or contact us online for a Home Energy Audit in British Columbia, including Duncan, Campbell River, Langford, Courtenay, Port Alberni, Squamish, Esquimalt.
Looking for a price? Get a no cost, no obligation free estimate.