Crawl Space Insulation Experts Near Victoria, Nanaimo, Qualicum Beach
Prevent mould, moisture & comfort problems with spray foam insulation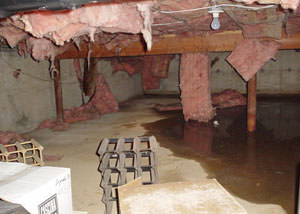 Fiberglass insulation in a crawl space tends to soak up moisture and humidity, growing mould and eventually causing it to "drip" off the ceiling.
Many homeowners don't think of crawl space insulation as an important home upgrade, but it can have a significant impact on your home's overall energy efficiency and comfort. An uninsulated or incorrectly insulated crawl space will allow air leaks that creates a damp environment that results in mould growth, cold floors, and energy loss.
Island Basement Systems solves these problems in your home using quality spray foam insulation. Our experts will evaluate your crawl space to identify key problem areas, then provide you with the right insulation solution. If you're having issues with your crawl space insulation, call us today or click below to get a free estimate in Victoria, Nanaimo, Saanich and the surrounding areas.
Why spray foam is the ideal crawl space insulation option
If you crawl space has insulation, it likely has traditional fiberglass batts. Unfortunately, this type of insulation performs poorly in the crawl space envrionment, as it is easily damaged by water and mold. Island Basement Systems uses spray foam insulation to provide a more effective, longer lasting solution. The benefits of spray foam insulation include:
Complete coverage: Batt insulation doesn't cover all the corners and cutouts in a crawl space. Spray foam insulation is sprayed throughout the crawl space, providing a complete layer of insulation that raises the R-value to the necessary levels.
Water & mold resistance: Spray foam insulation won't be damaged by water or mold, giving it excellent durability in the crawl space. This insulation is also compatible with our crawl space encapsulation system, giving you complete protection.
Air sealing: Air leaks in the crawl space are a major source of home energy problems. Spray foam provides air sealing and insulation in one step. By eliminating air leaks, you'll improve your home's overall efficiency and comfort.
Upgrade your crawl space with spray foam insulation
If you have an uninsulated crawl space and are dealing with mold issues, uncomfortable rooms, and expensive heating and cooling costs, Island Basement Systems can help. Our crawl space repair experts can help you get the right solutions for any problem your're having. Call us today at 1-855-206-4811 or contact us online to get a free estimate in Victoria, Nanaimo, Saanich, Duncan, Campbell River, Langford, Courtenay, Port Alberni, Squamish, Esquimalt and the surrounding areas.